Regular price
Sale price
$25.00 USD
Unit price
per
Sale
Sold out
ONLY 36 LEFT!
Plum Jam, Big League Chew, Concord Grape
Medium Bodied, medium tannin with black cherry earth tones and spice


So easy to drink, it's much more than okay!


Serve with a chill.
PRODUCER
Rootdown Cellars Es Okay

VINTAGE
2021

TYPE
Red Wine

GRAPE
80% Syrah 5% - Tinta Caõ 5% - Tinta Roriz 5% - Tinta Francisca 5% - Tinta Barroa
REGION
Mendocino County, California

ABV
13.1%
FARMING

Sustainable
View full details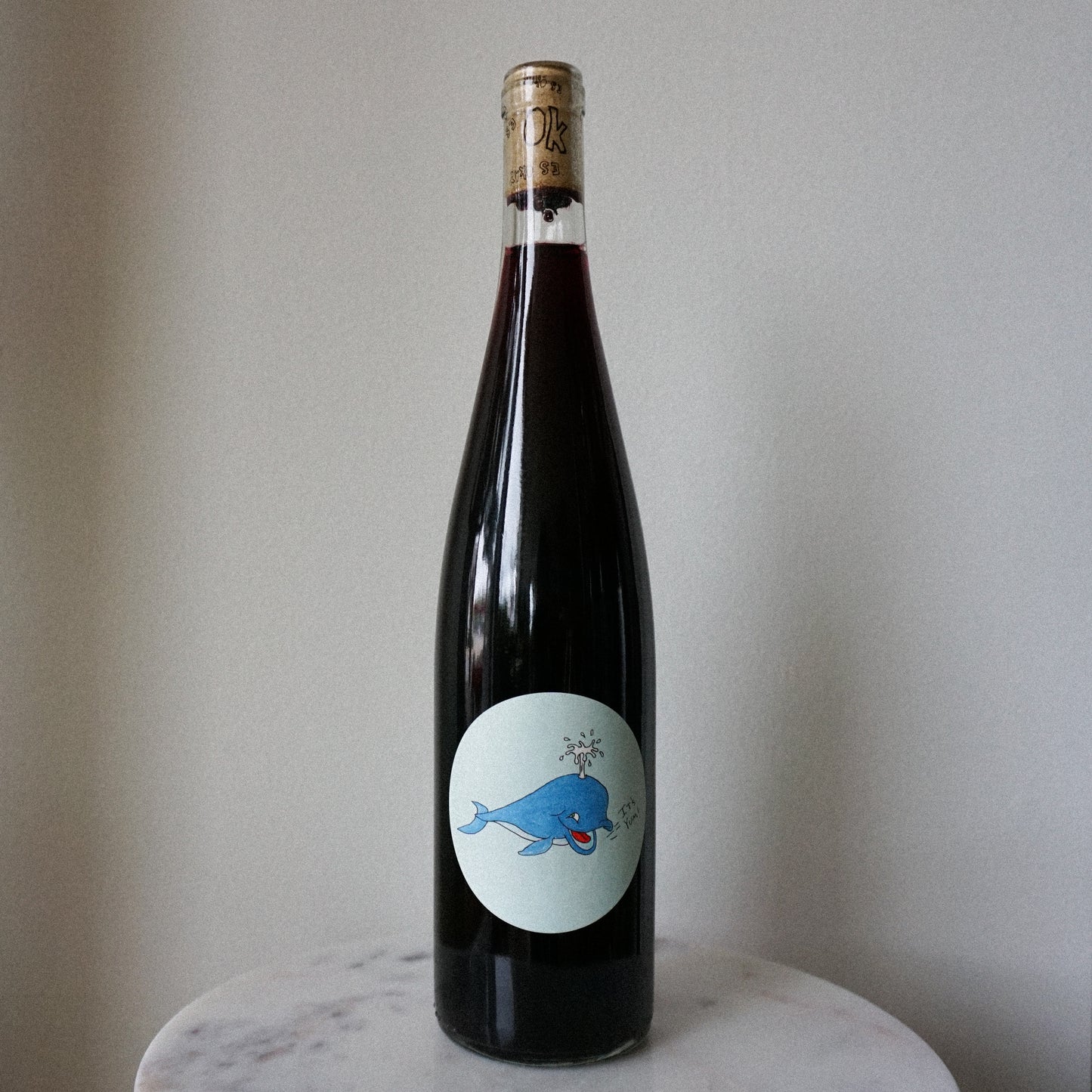 Mike Lucia is no newcomer to the Northern California wine scene, as the owner and producer of multiple wine brands including Rootdown, Cole Ranch, and Es Okay. His winemaking roots go all the way back to the early 90s, where as a teenager he began working in the cellar. Since then, he's been busy: studied in the Fresno State Enology program, made wine for Copain, Goldeneye, and consulted for brands with similar mentalities. In 2016, Mike "hit the gas pedal" on Rootdown, increasing both the quantity and varieties of wine he made, stopping once he reached 9 wines. His newest venture, Cole Ranch Vineyard & AVA is testing all of his knowledge, as he studies a unique terroir (the smallest AVA in the US) and pushes to find the best Alpine varietals that will thrive in the Cole Ranch soil and climate.
Mike's Rootdown label refers to the grassroots of winemaking and the downward influence of the soil on wine, particularly in organic winemaking. Rootdown focuses on varietal specific wines from single vineyards that lead with earth and texture, rather than only fruit. Currently, Rootdown is making wines from the more obscure varieties. Yet over the next few years, the brand will begin to focus on Jura-inspired varietals with Cole Ranch as its source. Stylistically, the wines will continue to be low alcohol, high acid, and with a decidedly hands-off approach, allowing the grapes and specific sites to speak for themselves.
A few new projects are in the works -- after Mike acquired the Cole Ranch vineyard and AVA in Mendocino, this estate vineyard will focus on 2 very different brands from the same property. The Cole Ranch brand will focus on old-guard varieties from vines planted in the 1970's (Cab, Merlot, and Riesling), and a new brand called Cole is in the works that will focus on Savoie varieties from the mountainous Alps Region of France (think: Jacquere, Savignin, Mondeuse!)
For both labels, Mike will continue to ferment the wines with native yeasts, no new oak, and sulfur ONLY in amounts equal to what is found naturally on the vine. After close to 20 years in the biz, Mike's skill as a winemaker is finely tuned, but he usually prefers to let curiosity inform what happens with his wines. He is constantly having fun making decisions that he "shouldn't" make, and always playing with "What if?"