Regular price
Sale price
$25.00 USD
Unit price
per
Sale
Sold out
The wine is super fruity and juicy, with just the right firmness on the palate. Highly drinkable and sure to spark a conversation!
PRODUCER
Populis

VINTAGE
2021

TYPE
Red Wine
GRAPE
Zinfandel (65%), Chardonnay (25%), Pinot noir (5%), & Carignane (5%)

REGION
Mendocino County, California
United States
ABV
12.5%
FARMING
Organic
DETAILS

Vineyards:

Zinfandel: Hawkeye Ranch, & Lolonis Vineyard, Redwood Valley AVA Mendocino County, CA & Venturi Vineyard, Mendocino County, CA

Chardonnay: Lolonis Vineyard, Redwood Valley AVA Mendocino County, CA

Pinot noir: Bottage Vineyard, Los Carneros AVA, Sonoma County, CA

Carignane: Venturi Vineyard, Mendocino County, CA

 

Soils:

Venturi Vineyard is located just north of Ukiah, in the Calpella Valley, on predominantly Pinole gravelly loam soils.  These highly regarded soils contain a mixture of sandstone, shale and quartz formed from alluvial flows. Redwood Valley is near Ukiah in Mendocino County and has similar gravelly-loam soils. However, this valley rests at a higher elevation and nearer the mountains, making it a cooler climate than Ukiah. Bottage Vineyard rests in the Los Carneros region of Sonoma with deep, heavy clay sedimentary soils.

 

Farming:

Larry Venturi is a 3rd generation farmer tending to vines planted on his family's historic site in Calpella (Ukiah).  Planted in the late 1940's, his ancient Zinfandel and Carignane vines produce wines with incredible depth and complexity. Peter Johnson and his family have been farming grapes and pears in Mendocino County for 4 generations. The Lolonis vineyard was established in 1920 and the family has been farming its old vines organically ever since. The Bottage vineyard is farmed organically in house by Les Lunes.

 

Vinification:

Each variety was fermented separately and then blended prior to bottling. The Carignane from Venturi Vineyard was pressed as rosé. The Chardonnay was all destemmed and macerated for ten days on the skins before pressing at dryness. The Zinfandel portion of the blend from the Lolonis vineyard and Hawkeye Ranch were fermented separately, with a whole cluster and destemmed treatment for each site. Pinot noir saw a short maceration for 5 days before pressing. The components were blended after malolactic fermentation was completed, aged in flextanks and bottled in July with 20 ppm sulfur added.

 

Tasting Notes:

2021 was an extremely difficult year for Carignane, which typically makes up a large portion of this blend, and yields were down by 75%. As is such, Zinfandel and Chardonnay dominate the blend and give an ethereal, fresh red wine. Bright red fruit from the Zinfandel on the nose gives way to a savory side on the palate thanks to the macerated Chardonnay. The Carignane rose adds a lean, acid edge and the Pinot noir, a subtle earthy tone. Extremely versatile on the table and a truly pleasure to drink.
View full details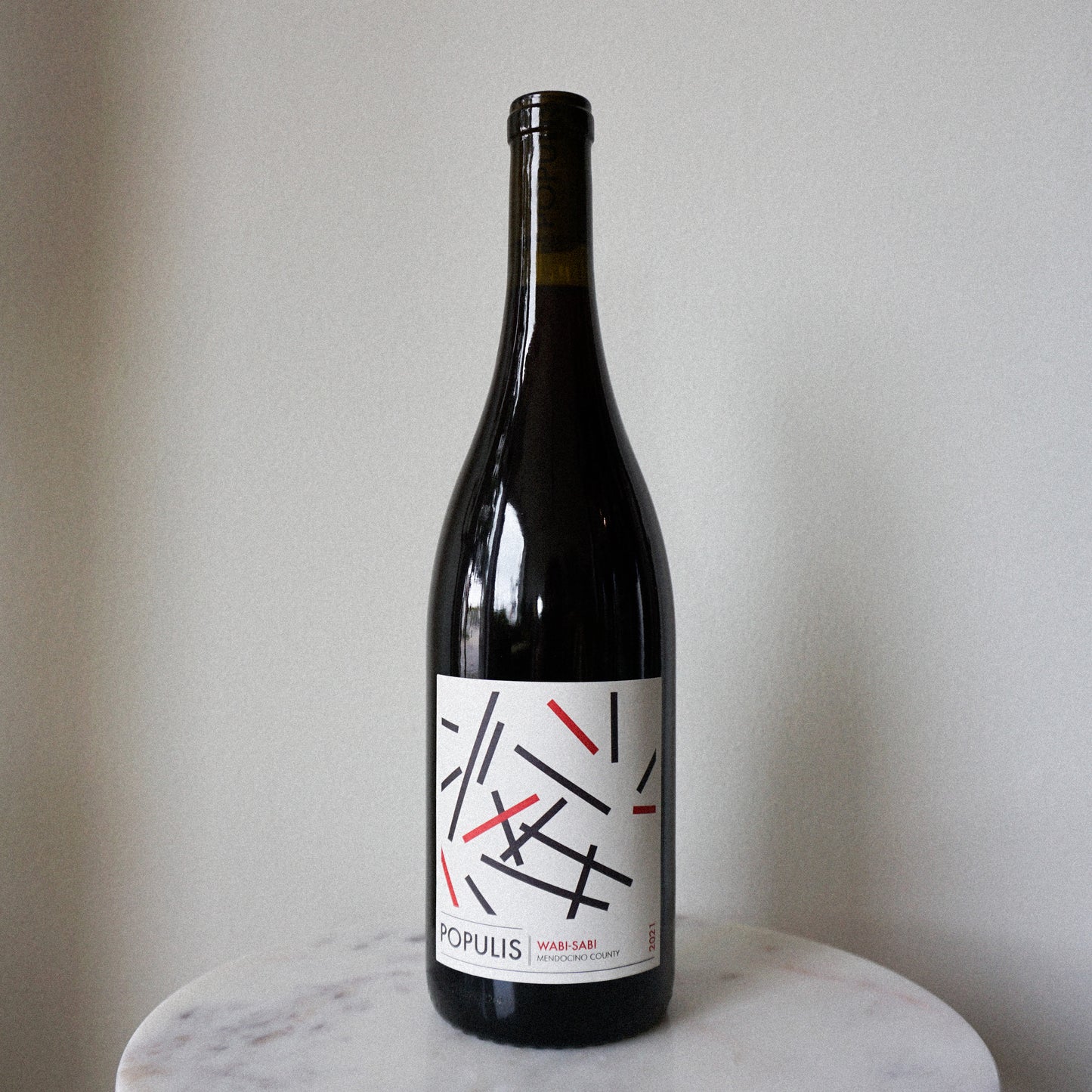 Shaunt Oungoulian and Diego Roig produce two wines, Populis and Les Lunes Wine. With Populis, they purchase grapes from historic vineyards and multi-generational growers from Mendocino County. These wines are fresh, lively, fruit forward, and made in a playful style. In addition to making wine, they farm and manage over 8 ha of vineyards in Sonoma and Napa and are committed 100% to organic farming and restoring and preserving older and historic vineyards in those counties. Their Les Lunes Wines are made from these vineyards and the top sites from their growers in Mendocino County. The Les Lunes Wines show the more classic, refined, elegant, and ageable side of natural wine.
Their facility is literally the basement of Shaunt's parents' house in Orinda, just east of Berkeley. This allows them to produce wine without the interference of other wineries' yeasts or influences as well as allowing them to age their wine for multiple vintages before release if needed.
They are absolutely 100% committed to farming and producing wines organically. They make no additions to the wines save for a small dose of sulfur before bottling if needed, as determined on a barrel by barrel basis.