Regular price
Sale price
$21.00 USD
Unit price
per
Sale
Sold out
Only 16 left!
Where: Santa Barbara, California
Grapes: Grenache, Mourvèdre
Body: Light/Medium
Category:

 Rosè Wine
Floral notes, of white blossom and rose on the nose. At the front a citrus burst, pear, and tasty mango. To finish strawberry shortcake, velvety, light and textural, yet still crisp.
practicing organic // native yeast // no sulfites added // woman owned 
2022  //  750ml  // ABV
 12%
DETAILS

Background
While the main Love You Bunches wine continues to be a 100% carbonic fermentation of Sangiovese, in 2019 we began making Love You Bunches rose, where most of the fruit is pressed immediately for an extremely light-colored rosé.  Some grapes rest 12-24 hours whole, to pick up some color and texture from the skins and pulp.


Vintage
A cold spring led to a moderate Summer without significant heat spikes through harvest.  We jumped on the warmer San Louis Obispo County picks early to catch the fruit fresh and lively.  This gave us the luxury of waiting on the cold Santa Barbara County sites to slowly accumulate sugar and riper flavors.  Without any heatwaves, the acid levels hung high, creating an epic rose vintage.

Sensory
Precise and popping with bright energy, 2021 Love You Bunches rose immediately wins us over in everything we want out of a scrumptious rose.  Strawberry married with cool, firm peach. Breezy lemon-lime and lifting mint combine effortlessly through the light and playful palate.  Smooth, with just a hint of refreshing tang as the curtain closes leaving us wanting more.
View full details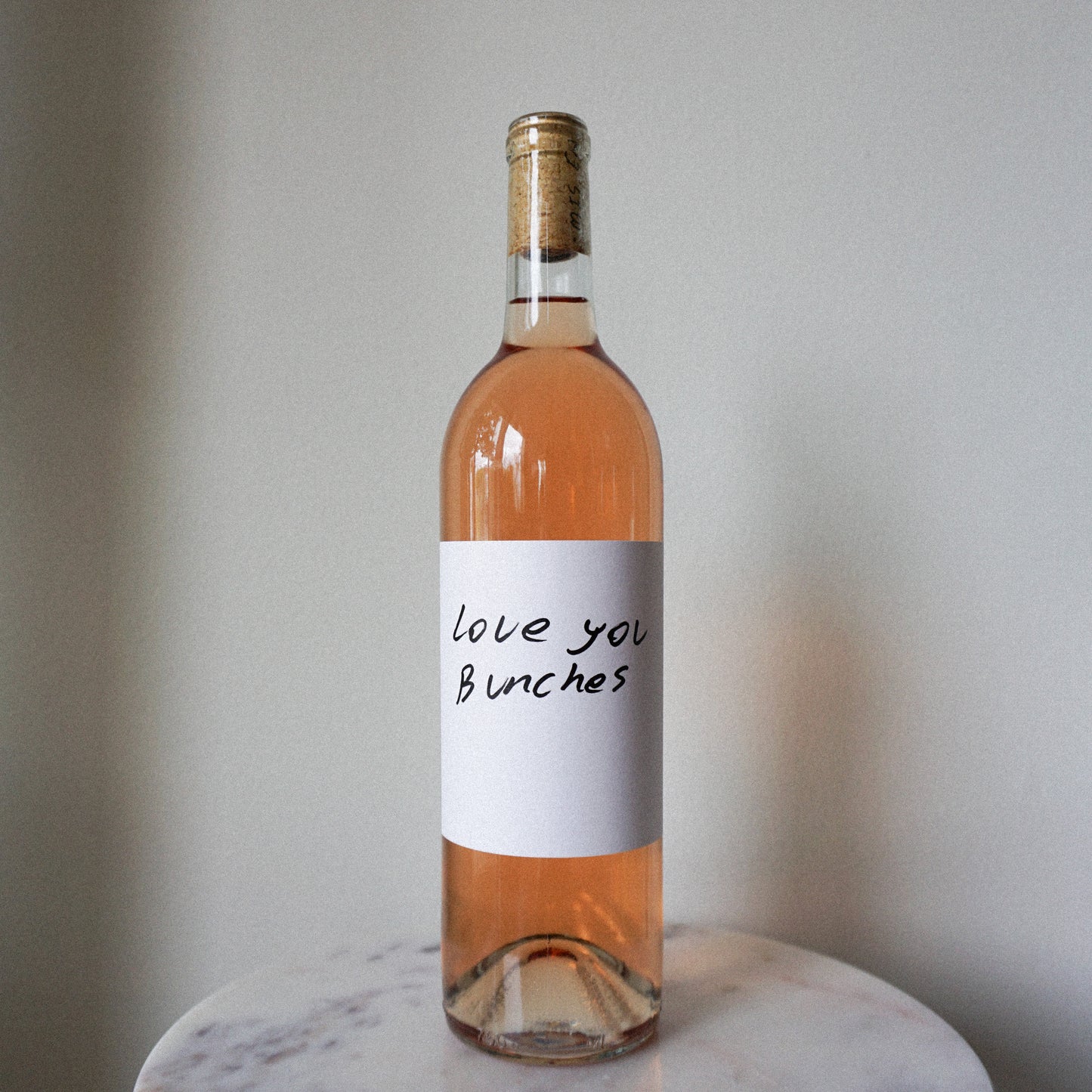 Stolpman Vineyards was founded by husband and wife team Tom & Marilyn Stolpman. On their honeymoon in Napa Valley, Marilyn put the wild idea into Tom's head about one day owning a vineyard. In 1988 their search for limestone near the ocean ended with the purchase of what is now Stolpman Vineyards in Ballard Canyon AVA of Santa Barbara County. In 1994, Ruben "the Grape Whisperer" and his wife Maria Solorzano became the vineyard managers at Stolpman – employing a year-round team and empowering them through mentorship and a profit sharing program. Tom's son Peter joined the family business in 2009 after working for a reputable wine distributor. Since he joined the team, he took back the majority of the vineyard for wine production rather than selling the grapes. He also helped increase Ruben's La Cuardilla profit sharing program for the vineyard workers to 10% of all Stolpman production. Stolpman Vineyards' story is reminiscent of the early pioneers of American winegrowing. They started with a dream of cultivating land with their family, included all of those who maintain the land into the family, and produce world class wine initially through trial and error and evolving to hone their skills through collaboration.