Regular price
Sale price
$29.00 USD
Unit price
per
Sale
Sold out
Frozen strawberries, Arnold Palmer, thirst quencher
Something to go bananas for

Drink chilled
PRODUCER
Scotty-Boy!

VINTAGE
2021

TYPE
ROSÉ Wine
GRAPE


42% PINOT GRIGIO (26 DAYS ON SKINS) | 33% PINOT GRIGIO (CARBONIC) | 25% PINOT NOIR/CHARDONNAY (CO-BARREL FERMENTED)



REGION
Santa Barbara County, California 
United States

ABV
13.5%
FARMING
Organic 
View full details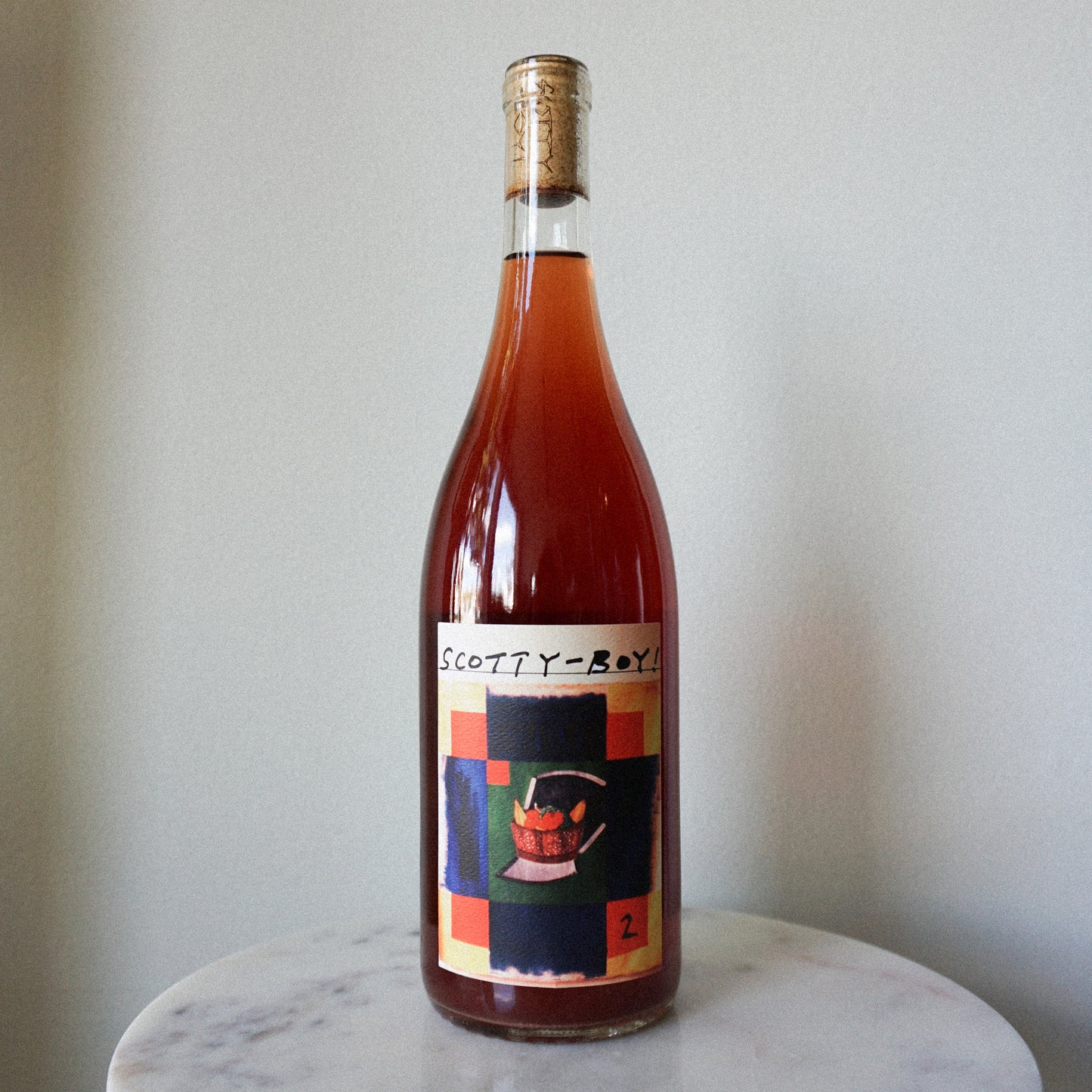 Despite the low-key vibe, winemaker Scott Sampler produces these wines in small batches with great attention to quality and craft. Vinified and blended in various exotic, exciting and delicious ways (along with a whole lotta love), these wines will not only satisfy the basic needs of the basically thirsty (which he takes very seriously), but also hopes to bring great joy to the palates of natural wine lovers, discerning wine nerds, adventurous beer drinkers, and passionate wine enthusiasts around the globe. In short, everyone is invited to the Scotty-Boy! party and his main goal is we love to party!
Nonetheless, "nothing added/nothing taken away" is his operative mantra. Scotty-Boy! wines step up to the table purely themselves with transparent origins – no inoculations, no additions, no added sulfur, native fermentations, always bottled unfined and unfiltered. The grapes at the genesis of these bottles hail from small family owned vineyards, artisinally farmed at least sustainably, if not organically and/or biodynamically; and are only harvested by hand.
Fresh and young, these wines are meant to be drunk sooner rather than later with a good chill. Truly unfiltered, they will often appear cloudy and throw sediment – part of the charm and proof of concept.
Even though this is some high quality juice, don't feel shy to: throw some ice cubes in; pour them into red plastic cups; pound them on the patio; forget them in the fridge; and/or mix them into a cocktail. Hey, sip from a fancy glass with upturned pinky if that's your jam. These wines are entirely for your pleasure, however you see fit. No hassle, totally casual and fancy free.