Regular price
Sale price
$26.00 USD
Unit price
per
Sale
Sold out
ONLY 3 LEFT!
Dry and delicious with notes of white flowers and nectarines.
PRODUCER 
Wonderwerk

TYPE
White Wine
GRAPE
Riesling

REGION
Gilroy, California
United States

ABV
12.4%

FARMING
Organic

VINTAGE
2021
DETAILS

Zabala Vineyard. Alluvial soils with pale round river stones. Lodi Rules certified sustainable vineyard that was certified organic in 2010 by the Monterey County Certified Organic Program (MCCO) and California Department of Food and Agriculture (CDFA). Luis Zabala, a 10th generation California farmer (!) tends to over 1,000 acres first planted in the 1970s in the dry riverbed of Arroyo Seco (Monterey County). The vineyard is famously windy and cool, which helps retain acidity and temper sugar accumulation.

The grapes were picked at 20.7* Brix on September 22 – 2021 was an impressively cool growing season in Monterey County, with longer hang times and extremely high acidity. The fruit was loaded direct to press and pressed to tank, fermented to dryness, then racked to neutral oak barrels. The wine was aged on lees for 6 months in barrel. This wine was produced without fining or filtration, with 20 ppm sulfur (KMBS) added at bottling.
View full details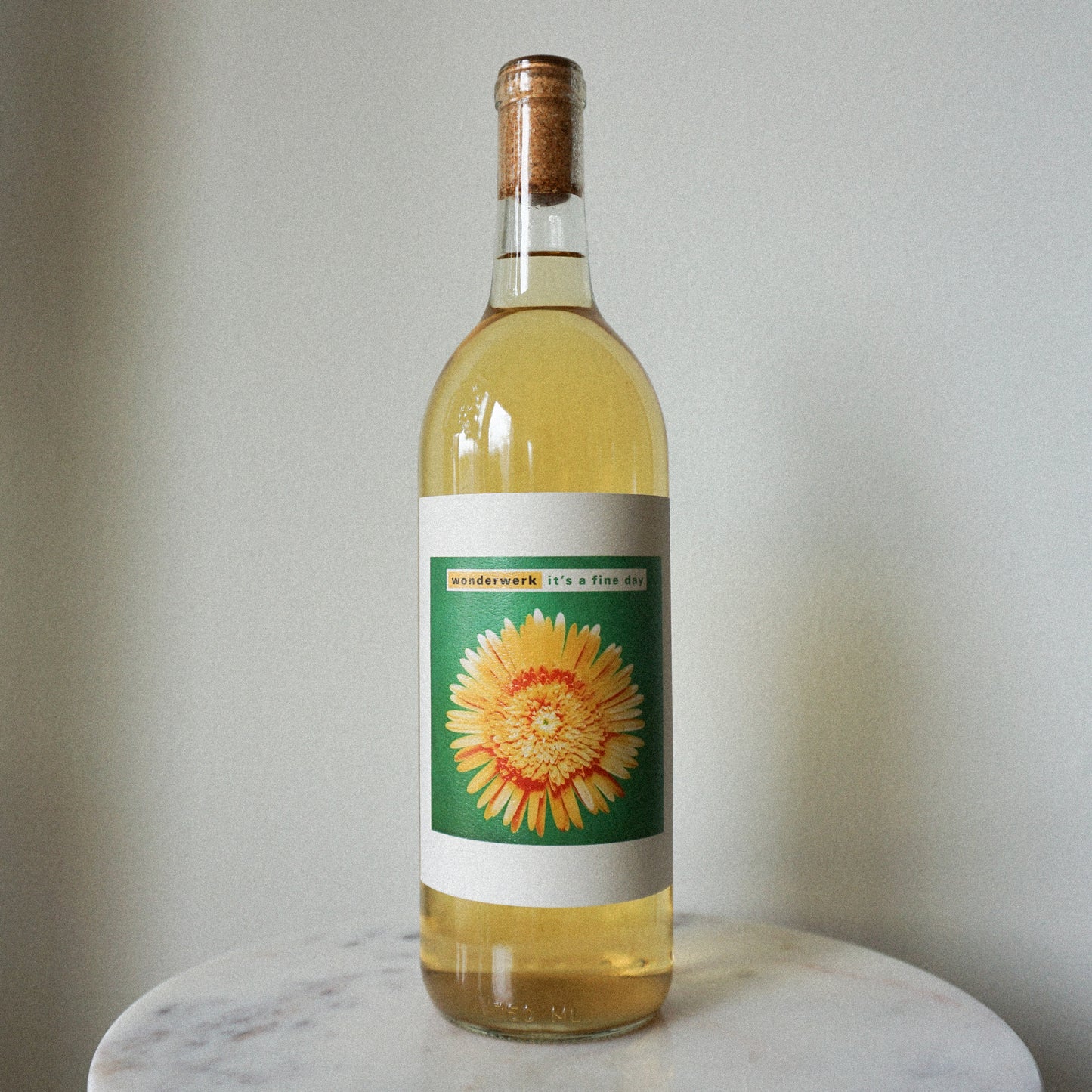 Wonderwerk is Andrew Lardy and Issamu Kamide, two high school friends from Virginia that made their way to California and started a wine label that they hope will morph into "The Wonderwerk House of Fermentation". Andrew was originally working on a graduate degree in neuropsychology when he realized the science and experiments he was working on were too far removed and less tangible than he'd like – too clinical if you will. He's always had a passion for culinary exploration and wine and would often find himself bootlegging cider or moonlighting as a bartender in college. Making wine felt like that perfect mix of science and art he was after so he up and moved to California and enrolled in the Fresno State Enology program. After Fresno State, he cut his teeth working in several different wineries on California's Central Coast – around the same time that Issamu came back from a stint in Brazil to go back to school in Virginia for brand management which led him to LA to work in CPG food & bev.
While in LA, Issamu would regularly visit Andrew in San Luis Obispo and they'd go through all the wines Andrew had been drinking and making. "I started to familiarize myself with the world of wine, eventually studying through to WSET 3. But we both knew eventually we'd have to stop working on other people's ideas because we had so many of our own," Issamu says.  After a fateful day when the guys attended "Despacio", a roving, high-end discotheque pioneered by James Murphy of LCD Soundsystem and the Soulwax brothers, they emerged from a disco daydream to ask themselves "how could we make a wine that tastes like that?" And thus was born Wonderwerk's first wine, Discovino Donna Rosé.
The grapes come from different vineyards around California, selected by Issamu and Andrew based on their respectful cultivation: "We seek responsibly farmed fruit that provides us with unique character in the winery. Sometimes we go looking for a particular profile or varietal, sometimes the site finds us. Most of our vineyards use organic practices and are pursuing certification, sustainable farming is a minimum requirement," they assert. In the cellar, Wonderwerk is about inclusivity and the freedom to explore new directions in fermentation – "bringing our desire to twist, turn, and tweak flavors and ideas into something enjoyable for everyone", Issamu describes the philosophy behind their co-fermented wines and piquette, all made without fining or filtration, with just a bit of sulfur at bottling.
The name "Wonderwerk" actually reflects on this experimental, avant-garde spirit as well – it originates from a cave in South Africa that is believed to have the earliest sign of human cooking – a million-year-old hearth – where humans manipulated nature for enjoyment as much as sustenance. The guys both currently still work full-time, fermentation-related gigs while running Wonderwerk: Andrew is the Head Distiller at the Spirit Guild Distillery in downtown Los Angeles, immersed in botanicals and aromatics day and night, and Issamu does marketing and product innovation for a major kombucha brand.